Only 1/3 of ATMs Can Read Chipped Debit Cards
(BOSTON - October 21, 2016) - Banks nationwide faced an October 21 deadline by Mastercard to equip their ATMs with card readers capable of reading the computer chip embedded in newer debit and credit cards or suffer a shift in liability to them for losses due to fraud. But results of a spot-check of ATM conversions in major U.S. cities and findings of a Consumer World survey of a dozen of the largest banks in Massachusetts suggest that most financial institutions and other ATM operators did not meet that deadline.
For example, only two of the Massachusetts banks surveyed -- TD Bank and Middlesex Savings Bank -- reported that all their ATMs in the state had fully working chip card readers. Other banks had only partially installed new readers, were not finished updating or testing the software, or did not respond to repeated inquiries. See chart at end.
Nationally, only an estimated 33 percent of ATMs are now chip-enabled, according to Mastercard spokesperson Beth Kitchener. However, Mastercard's own ATM locator website indicates that as of October 19, as few as five to sixteen percent of the ATMs in their network in major cities were chip-enabled. Kitchener said the website figures are self-reported and may not be completely comprehensive.
One reason so few ATMs have been converted may be that most debit cards don't yet have embedded chips ("chip cards"). In fact, only one out of three debit cards is chipped according to Mastercard, compared to 88% of credit cards.
It was just one year ago that retailers faced a similar deadline to install checkout terminals capable of reading payment cards equipped with smart chips called EMVs. A Consumer World survey of four dozen retail chains last December revealed that three-quarters of them had not yet enabled the card readers they had installed.
The deadline this time was imposed by Mastercard on ATM owners (banks and non-banks) in its network, and shifted the liability for most fraud losses to them as of October 21 if their ATMs did not have chip card readers installed and enabled. Visa will impose a similar liability shift next October.
"With so many reports of criminals using skimmers to steal ATM card numbers, it is surprising that banks have been so slow in completing upgrades to their systems, whether or not required by the card networks," commented Consumer World founder Edgar Dworsky.
Chip card readers at ATMs can be one of two types depending on the particular machine, and can be indistinguishable from the old type. In one version, the card is completely swallowed by the ATM for processing, while in the other, the card only goes partially into the reader slot. In the latter case, the customer may be directed via a screen prompt to re-insert the card a second time. Users shouldn't notice a delay in their transactions, however, as they do currently at retail stores.
While the introduction of chip card readers at ATMs is designed to improve security and reduce counterfeit card fraud, ATMs may still be the location of choice for criminals to inconspicuously install skimmers to steal card data from the magnetic strip that is still on cards. Although crooks may not be able to use any data they skim from chipped cards at an ATM or retail store with chip readers installed, they could still use the card number to make online purchases where no check of card chips is possible. In fact, "card not present" fraud like this is up 15% this year according to Experian.
Consumer World suggests that bank customers find out whether or not the ATMs they regularly use are chip-enabled by asking their financial institution or by using the ATM locators at Mastercard.com and Visa.com .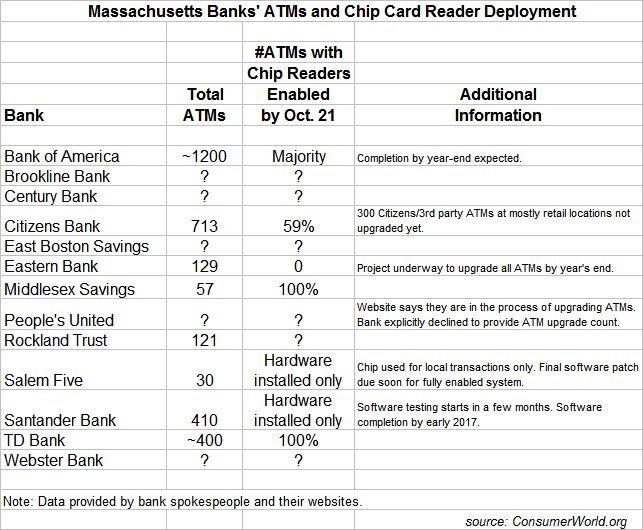 Return to Consumer World.