CONTENTS
Site Search
---
---
SHOPPING
Product Reviews
Compare Prices
Car Buying
Catalogs
Stores

---
BARGAINS
Discount Shops
Computers
Discount Travel
$$$ Deals

---
CONSUMER RESOURCES
Directories
Booklets
Buying Info
Health
Home
Reference
Automobile
Legal
Fun

---
MONEY
Investments
Money Matters
Insurance
Credit/Bank

---
CONSUMER AGENCIES
Federal Agencies
State Agencies
Intern'l Orgs. Consumer Orgs.

---
COMPANIES
Online Cust Serv
Auto Mfrs.
Product Info

---
TRAVEL
Air, Hotel
Bed & Breakfast Destinations

---
NEWS
Scam Alerts
Recalls
Newspapers Mags

---
INTERNET
What's New Lists
Search Engines
Wonders
References
Computer Resources
---
REGISTER
for
Newsletter
---
Back to Homepage
---
Some Stores Tighten the Rules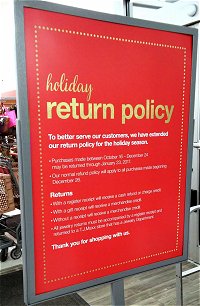 (BOSTON - Dec. 15, 2016) -- Based on its annual return policy survey, ConsumerWorld.org reports that some prominent stores are shortening return windows by curtailing previously generous open-ended return policies. And while some other retailers are tweaking their return rules making them a little more lenient, most stores' return policies have remained about the same as last year.
Many retailers are offering special extended holiday return windows. This allows gifts bought in November to be returned until mid- to late-January, considerably beyond the normal return deadline in some cases.
Stores also continue to "slice and dice" their return policies, creating complicated rules for different categories of items. Electronic items may be subject to shorter return periods than say, clothing. Opened goods or those missing original packaging may be subject to limited return rights or restocking fees. Some stores track shoppers' return frequency in a database. Restrictions like this aim to reduce return fraud which cost retailers an estimated $9.1 - $15.9 billion in 2015.
The complexity of stores' return policies is underscored by their sheer length. The policies of the dozen stores in the accompanying chart span some 79 pages, totaling over 26,000 words.
Noteworthy policies, policy changes, or unusual return policies for 2016 include:
Macy's now requires all returns in one year instead of allowing returns anytime.
Kohl's added a deadline of January 31 for "premium electronics" instead of open-ended.
Costco reduced its return period for major appliances from open-ended to 90 days.
New, short return periods for drones added: Target - 14 days; Walmart - 15 days: and Toys"R"Us - 30 days.
Sears started its holiday returns policy one week earlier, and allows returns one week later.
Toys"R"Us increased the return period for computer hardware from 15 to 30 days.
Many online sellers offer free return shipping, as do Shoprunner and PayPal.

Unusual policies:
Toys"R"Us has a secret holiday return policy, not posted in stores checked, not known by store personnel asked, and not disclosed online as part of its return policy.
At Amazon, groceries, plants, and flowers are not returnable but may be refundable.
Target REDcard holders get 30 extra return days. Items that are opened/damaged/receipt-less may be denied a refund or exchange. Best Buy adds more time for elite members too.
Express, Bloomingdale's, and Nordstrom use "do not remove" tags on some clothing that must remain attached to deter "wardrobing" - buying then returning after a one-time use.
Without a receipt, Walmart gives customers the option of a cash refund (if the purchase was under $25), a gift card for the amount of the purchase (if it was over $25), or an even exchange. Shoppers can only make three no receipt returns within a 45 day period. Walmart tracks returns in a database and may deny a return that exceeds the store's limits.


"If shoppers follow the rules, they should have many happy returns," said Edgar Dworsky, Founder of Consumer World®, a leading online consumer resource guide. "But, since the rules vary so much from store to store, you really have to read the fine print."

Summarized below are some chains with generous regular or holiday return deadlines for purchases made in their brick and mortar locations, unless otherwise stated:
| | |
| --- | --- |
| Amazon.com | January 31 for most items shipped 11/01 thru 12/31. No refunds on downloads. |
| Best Buy | January 15 for most purchases Oct. 30 - Dec. 31. Elite members may get more time. |
| Costco | No deadline, but 90 days for: TVs, computers, cameras, MP3 players, cellphones, projectors, and major appliances. |
| Kohl's | No deadline, but premium electronics bought Nov. 1 - Dec. 25 returnable until January 31. |
| Macy's stores | One year for returns, but some furniture (3 days), some mattresses (60 days). Receipt or return label gets price paid. 15% restocking fees on some items. |
| Marshalls | January 23 for purchases Oct. 16 - Dec. 24. This retailer posts clear in-store signs about their extended holiday return policy every year. |
| Overstock.com | January 31 for most items purchased Nov. 1 or later. Fees apply if opened, used, or late. |
| Sears | January 31 deadline for most 30 day items except major appliances purchased Nov. 1 on; Report certain damaged goods within 72 hours or no refund; Even exchange only on some open items; 15% restocking fee on electronics missing parts; furniture, etc. |
| Staples | No deadline for office supplies. January 15 for electronics & furniture bought since Nov. 20. |
| TJ Maxx | January 23 for purchases Oct. 16 - Dec. 24. This retailer posts clear in-store signs about their extended holiday return policy every year. |
| Target | 90 days most items, except 30 days for electronics and entertainment items, 14 days for drones, but days begins 12/26 for purchases since 11/1. Stores brands - one year. May deny refund for opened/damaged/unreceipted items. REDcard holders get 30 extra days. |
| Toys"R"Us | Secret holiday policy: most items bought from September 1 onward can be returned until January 28, but only November 1 onward for video game hardware, cameras, music players, netbooks, eReaders, etc. |
| Walmart stores | 90 days most items. For purchases made from November 1 on, 15 days (PCs, cameras, GPS, more), 30 days (mowers, a/c, more) but count days starting December 26. |
Return policy law varies state to state. Generally, a store can set up any return policy it wants, whether it is "all sales final", "merchandise credit only", or "all returns in 30 days." Many states require the policy to be clearly disclosed to the buyer prior to purchase, usually by means of a conspicuous sign. Some states do not consider a disclosure that only appears on the sales receipt to meet this requirement. It is not unreasonable, however, to require customers to provide a sales slip or gift receipt to establish where and when the item was purchased, and at what price.
=================================
TIPS FOR HASSLE-FREE RETURNS
=================================
Don't fight the crowds on the return lines the day after Christmas; grab some of the advertised bargains instead. Go back a day or two later. To improve your chances of getting full credit, provide a sales slip or gift receipt, return the item in new condition, unopened, and with all packaging material. Returns without a receipt are subject to the posted return policy, which might result in your receiving only a merchandise credit for the lowest price the item has sold for recently, or possibly no refund or exchange at all.

If the item to be returned is defective, some states such as Massachusetts, require the store to give the consumer his/her choice of one of the three "R's": repair, replacement or refund, irrespective of the store's posted return policy.

Consumers who have a problem returning a gift, should first contact the store manager or customer service department of the retailer. If a satisfactory resolution is not obtained, then a complaint can be filed with the state Attorney General's office or local consumer agency.
HOT SITES
---
*New Sites*
Just Added Here

---

---
Car Prices
Find Dealers' Cost for Cars

---
Low Rate Credit Cards
---
2.5˘ Long Dist.
No Monthly Min.++

---
Check Prices
Find Low Prices

---
Mortgage Rates
---
Air Deals
This weekend

---
Better Business Bureau
---
BizRate
Online stores' ratings

---
Product Reviews
---
Find Products
by features

---
Compare Prices
---
What's On Sale?
---
Lemon Check®
Used car histories++

---
Consumer Booklets
---
Consumer Rights
---
Home Prices
Check City Sales Records

---