Week of October 23, 2017 (see last week)
<! -------------------COLUMN 2 (MIDDLE) ----------------------- -->
Top Stories
The Dirty Business of Mattress Reviews
Many consumers rely on product reviews online when making a purchase decision. And one particular category -- online only mattresses -- has created a special need for reviews because the product cannot be tested in stores. A slew of mattress review sites has emerged, and this
Fast Company article
details some of the often too cozy (and sometimes uncomfortable) relationships between online mattress sellers and the people that review them.
---
Pharmacy Prices Compared
The website Cheapism did a comparison pricing study of prescription and nonprescription drugs at CVS, Walgreens, Rite Aid, Target, Walmart and Kroger. In each of the categories, Walmart came out the cheapest except for prescriptions. Here are the
comparison charts
. (Keep in mind that Costco often beats all other retail competitors on prescriptions.)
---
ADV

---
---
Counterfeit iPhone Chargers Flunk Safety Tests
If you see a bargain on an iPhone charger, be careful. UL tested 400 counterfeit iPhone powers adapters and all but three failed their basic safety tests. Here is the
short version
of the story, and here is the
full report
.
---
Consumer World Original
Mouse Print* -- AA & UA Penalize Carry-on Luggage Cheats

Always dreaming up new ways to charge extra fees to travelers, American Airlines and United Airlines have come up with a new doozy. That story is in Mouse Print* this week.

Consumer World
---
NOTE: We
only
feature free stories that are fully readable. If you are blocked, try a different browser and clear NYT and WashPost cookies from it. Other newspapers may block you based on your repeated use of their site, or convert previously free stories to pay stories without notice.
<! -------------------COLUMN 3 (RIGHT) ----------------------- -->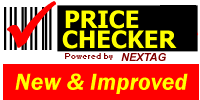 Enter an item, and compare prices at a number of online stores instantly
(Use brand, model#, name, etc.)
437646
---
ADV
---
Visit Our Sister Site: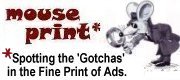 ---
Newsletter Sign Up
Every Monday morning, get a preview of the latest consumer stories and the Bargain of the Week in your email box...free! Sign up now.

---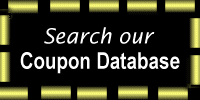 ---
Visit Our Sister Site:
---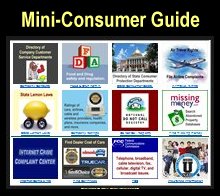 Not an ad!

---
<! -------------------COLUMN 4 ----------------------- -->
ADV
---
Bargain of the Week
Refurbished Nest Learning Thermostat - $139
Until November 3,
Home Depot
has refurbished second generation Nest wi-fi learning thermostats $40 off -- for $139. (They are up to 3rd generation now.) Check if your utility has a rebate offer, sometimes $50 to $100, on wi-fi thermostats. Note: some states, like MA, exclude refurbs from the rebate.
See also: Hot Deals

<! -------------------COLUMN 5 ----------------------- -->
Consumer Reports
How Long Does the Battery Last in Cordless Drills?
No one wants a cordless drill where the battery keeps dying. So Consumer Reports tested drills to see how many screws they could drill before the battery conked out.
Here are the results.
---
Consumerist News
<! -------------------COLUMN 6 ----------------------- -->
Consumer World Originals
Archive
---