Week of October 16, 2017 (see last week)
<! -------------------COLUMN 2 (MIDDLE) ----------------------- -->
Top Stories
8 Sneaky Ways Supermarkets Get You to Spend More
Supermarkets, like all retailers would like you to spend more when you shop at their stores. Here are some of the
clever mind games that grocers play
to increase their sales.
---
Q&A: How to Book the Cheapest Holiday Travel

The New York Times says that data researchers have gotten pretty good at determining the best times to book air travel — as well as when to fly. Here are their
best tips to snag a travel deal
(and when).
---
ADV

---
---
Postal Service Seeks Rate Hike
The U.S. Postal Service has submitted a request to raise postage rates. If approved, starting January 21, 2018,
first class mail will go up
a penny to 50 cents and postcards will be a penny higher too. Priority mail will also increase between three and nine percent.
---
Consumer World Original
Mouse Print* -- Thanks for Nothing, Bass Pro Shops

Everybody loves a bargain, including one of our readers who wrote to us recently about a clearance purchase he made at Bass Pro Shops. He and his wife got a quite a surprise when they peeled back the clearance price label after they bought the item. That story is in Mouse Print* this week.

Consumer World
---
NOTE: We
only
feature free stories that are fully readable. If you are blocked, try a different browser and clear NYT and WashPost cookies from it. Other newspapers may block you based on your repeated use of their site, or convert previously free stories to pay stories without notice.
<! -------------------COLUMN 3 (RIGHT) ----------------------- -->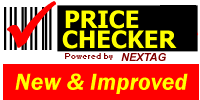 Enter an item, and compare prices at a number of online stores instantly
(Use brand, model#, name, etc.)
437714
---
ADV
---
Visit Our Sister Site: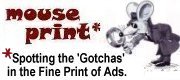 ---
Newsletter Sign Up
Every Monday morning, get a preview of the latest consumer stories and the Bargain of the Week in your email box...free! Sign up now.

---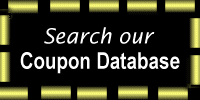 ---
Visit Our Sister Site:
---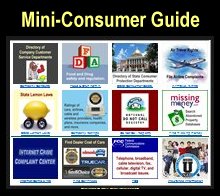 Not an ad!

---
<! -------------------COLUMN 4 ----------------------- -->
ADV
---
Bargain of the Week
Cell Deal: 100 Min./100 Texts/500mb LTE Data - $5/mo!
Red Pocket Mobile is offering a great deal for low-volume users. Each month you get 100 minutes of calling, plus 100 texts, plus 500 megabytes of high-speed 4G LTE data for only $5 (sold via a
$60 annual prepaid card
). You get your choice of AT&T, Verizon, T-Mobile, or Sprint as the underlying carrier. Only for sale at
Red Pocket's eBay store
. (Other plans available at both their regular site and on eBay.)
See also: Hot Deals

<! -------------------COLUMN 5 ----------------------- -->
Consumer Reports
Is Kaspersky Anti-Virus Software Spying on You?
Reports in the major media suggest a vulnerability in Kaspersky software has allowed Russian agents to scan and steal information from computers on which it is installed. Here's
what Consumer Reports recommends to do
if you have Kaspersky.
---
Consumerist News
<! -------------------COLUMN 6 ----------------------- -->
Consumer World Originals
Archive
---