Week of October 1, 2018 (see last week)
<! -------------------COLUMN 2 (MIDDLE) ----------------------- -->
Top Stories

Consumer World Exclusive
Which Supermarkets are Least Expensive and Offer the Best Quality?
Consumers' Checkbook just checked grocery store prices and surveyed readers about supermarkets and product quality in seven metropolitan areas: Bay Area, Boston, Chicago, Delaware Valley, Puget Sound, Twin Cities, and Washington, DC. Exclusively for Consumer World readers, they are offering
free access to both the store ratings
and accompanying stories about their findings and how to save money on groceries.
---
Should You Allow Your Insurance Company to Track Your Fitbit?

John Hancock recently announced that it was adding a fitness option to its policies whereby you could allow the company to track how much exercise you do, such as by getting the data from your Fitbit wristband. Should you allow your insurer to track your exercise routine? This story says
"yes"
and this one says
"no."
Lastly, this story explores the
privacy and security risks
. (Note: each link is a separate story.)
---
ADV

---

---
Quiz: How Savvy a Traveler Are You?
So you think you're a pretty smart traveler, do you? Take this quiz from the NY Times (monthly free story limits apply) to
test your travel smarts
. MrConsumer didn't do too well on this quiz, so the answers are not always obvious!
---
Consumer World Original
Mouse Print* -- Staples.com Quietly Drops Price Matching

Walmart has quietly dropped its price guarantee in stores, and now it is another retailer's turn. But, they don't want to talk about this anti-consumer move. That story is in Mouse Print* this week.


Consumer World
---
NOTE: We
only
feature free stories that are fully readable. If you are blocked, try a different browser and clear NYT and WashPost cookies from it. Other newspapers may block you based on your repeated use of their site, or convert previously free stories to pay stories without notice.
<! -------------------COLUMN 3 (RIGHT) ----------------------- -->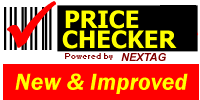 Enter an item, and compare prices at a number of online stores instantly
(Use brand, model#, name, etc.)
962365
---
ADV
---

Visit Our Sister Site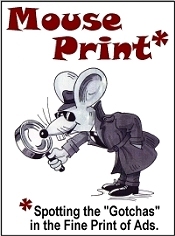 ---
Newsletter Sign Up
Every Monday morning, get a preview of the latest consumer stories and the Bargain of the Week in your email box...free! Sign up now.

---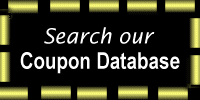 ---
Consumer News
---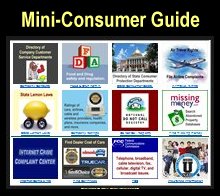 Not an ad!

---
<! -------------------COLUMN 4 ----------------------- -->
ADV
---
Bargain of the Week
$5 Movies at AMC
Every Tuesday, you can see a movie at AMC theaters across the country for only $5. You must be a Stubs member, their loyalty program. Joining is free. Click
"Join AMC Stubs"
in the upper left hand corner of their homepage, and then "join now" in the center of the page. The free membership is the one called "Stubs Insider."
See also: Hot Deals

<! -------------------COLUMN 5 ----------------------- -->
Consumer Reports
Get the Most TV for Your Dollar
Consumer Reports offers tips on how to get the
best TV at the best price
this fall. Included is a price graph showing how and when prices drop in the fall. Here is the same story with
TV test results ratings
(theoretically only available to subscribers, but click anyway).
---
More from Consumer Reports
Most stories are free
<! -------------------COLUMN 6 ----------------------- -->
Consumer World Originals
Archive
---