Week of November 26, 2018 (see last week)
<! -------------------COLUMN 2 (MIDDLE) ----------------------- -->
Top Stories
Top Mattress Brands Customer Satisfaction Ratings
J.D. Power just questioned nearly 1,000 mattress buyers about the comfort, price, support, durability, warranty, features, and customer service of their recent bed purchase. The top-rated brand was, surprise, Sleep Number. See
how the other major brands ranked
.
---
How One Couple Grossly Mismanages Money
MrConsumer learned to save money from an early age. But a significant number of Americans live from paycheck to paycheck. Here is
one couple's story
demonstrating that despite having $160,000 in salaried income, their poor money decision-making, purchasing choices, and reliance on debt has them owing hundreds of thousands of dollars.
Add your comments or read others' here
.
---
Please Help Support Consumer World
For 23 years, Consumer World has served readers with the latest consumer news, money-saving tips, and independent investigations. But we no longer receive financial support from a corporate sponsor. So reluctantly, MrConsumer turns to you and humbly
asks for your help
to keep this site and Mouse Print* available as free consumer resources.
---
ADV

---

---
The Single Best Day of the Year to Buy Airline Tickets

Any number of consumer stories theorize about the best day of the week to buy airfares. Usually, the answer is Tuesday. Now comes an airfare tracking app called Hopper which proclaims that this Tuesday, Nov. 27 (right after CyberMonday), is
the single best airfare shopping day of the year
.
---
Consumer World Original
Mouse Print* -- Your Frozen Turkey Was Probably 10% Water

Your Thanksgiving turkey, if it was the frozen type, probably was plumped up by almost 10% water. We check the labels and explain why the water injections were so noticeable this year. That story is in Mouse Print* this week.


Consumer World
---
NOTE: We
only
feature free stories that are fully readable. If you are blocked, try a different browser and clear NYT and WashPost cookies from it. Other newspapers may block you based on your repeated use of their site, or convert previously free stories to pay stories without notice.
<! -------------------COLUMN 3 (RIGHT) ----------------------- -->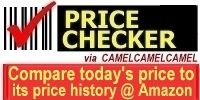 Enter an item, or preferably paste its Amazon URL (address)
Spot a bargain by comparing its price to its price history.
41930
---

Visit Our Sister Site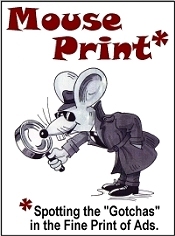 ---
Newsletter Sign Up
Every Monday morning, get a preview of the latest consumer stories and the Bargain of the Week in your email box...free! Sign up now.

---
ADV
---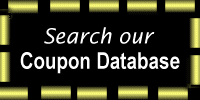 ---
Consumer News
---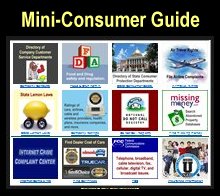 Not an ad!

---
<! -------------------COLUMN 4 ----------------------- -->
ADV
---
Bargain of the Week
Consumer Reports - One Year - $18.99 - MONDAY ONLY
Save $10 on a new, renewal or gift subscription to Consumer Reports magazine.
It is $18.99 only on Monday
, November 26. Be sure you see the $18.99 price before finalizing your purchase. ++
++ We may receive compensation if you make a purchase from this link.
See also: Hot Deals

<! -------------------COLUMN 5 ----------------------- -->
Consumer Reports
Best Blenders Under $100
Do you need a new blender or are you shopping for one as a gift? Consumer Reports
recommends these five models
and they are all under $100.
---
More from Consumer Reports
Most stories are free
<! -------------------COLUMN 6 ----------------------- -->
Consumer World Originals
Archive
---