Week of July 24, 2017 (see last week)
<! -------------------COLUMN 2 (MIDDLE) ----------------------- -->
Top Stories
Will Your Hotel Hit You with a Surprise Resort Fee?

Imagine reserving a hotel stay for $415, but getting hit with an additional
mandatory daily "resort fee"
that totaled $306 when you check out. Yikes. Now you can find out in advance which hotels charge resort fees at
ResortFeeChecker.com
. Over 1,000 U.S. hotel locations now charges these devilish fees.
---
Should Colgate Total be Banned?
The FDA banned the antibacterial chemical triclosan from soap last year, but
still allowed it in toothpaste
after Colgate demonstrated that the benefits outweighed the risks in its line of Colgate Total products. Scientists in New Zealand, however, last week urged consumers to
stop using Colgate Total
or to at least limit its use.
---
ADV

---
---
Quiz: Can You Spot the Real Fake News?
So you think you're a savvy consumer of news, do you?
Take this little quiz
to see if you can separate the genuine news stories from the fake ones. [Select "quick start" to avoid registration.]
---
Consumer World Original
Mouse Print* -- Free Wi-Fi Users Ignore Terms and Conditions and Get Pranked

An Internet company in the UK decided to see how many people actually read the terms and conditions of the free wi-fi service they offer. They buried a few nasty clauses in the fine print along with a reward for anyone who spotted them. The results: tens of thousands of customers got punked. That story is in Mouse Print* this week.

Consumer World
---
NOTE: We
only
feature free stories that are fully readable. If you are blocked, try a different browser and clear WSJ and NYT cookies from it. Other newspapers may block you based on your repeated use of their site, or convert previously free stories to pay stories without notice.
<! -------------------COLUMN 3 (RIGHT) ----------------------- -->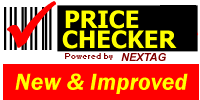 Enter an item, and compare prices at a number of online stores instantly
(Use brand, model#, name, etc.)
41931
---
ADV
---
Visit Our Sister Site: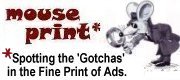 ---
Newsletter Sign Up
Every Monday morning, get a preview of the latest consumer stories and the Bargain of the Week in your email box...free! Sign up now.

---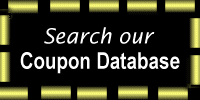 ---
Visit Our Sister Site:
---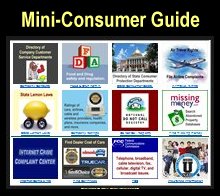 Not an ad!

---
<! -------------------COLUMN 4 ----------------------- -->
ADV
---
Bargain of the Week
Earn 1.25% on Savings - Not a CD!
SalemFiveDirect.com (the online only offshoot of Salem Five Cents Savings Bank) is offering an
eOne savings account that pays 1.25% interest
and the rate is guaranteed until next July. You only need $100 to open an account and the insured maximum is $500,000. You can make six withdrawals (via ATM card or online banking e-transfer) per month. You CANNOT bank in person at one of their Massachusetts banks without a hefty fee. To avoid ATM fees, get a companion eOne checking account paying 0.25% which reimburses all ATM fees up to $15 a month. It has free bill pay as well. Salem Five is where MrConsumer has banked for 20+ years.
See also: Hot Deals

<! -------------------COLUMN 5 ----------------------- -->
Consumer Reports
7 Top-Rated Dishwashers for Cleaning and Noise
Consumer Reports tested 200 dishwashers and came up with a
list of seven
with both excellent cleaning ability and quiet operation. Don't expect many bargains in the group.
---
Consumerist News
<! -------------------COLUMN 6 ----------------------- -->
Consumer World Originals
Archive
---