Week of December 24, 2018 (see last week)
<! -------------------COLUMN 2 (MIDDLE) ----------------------- -->
Top Stories

Consumer World Original
2018 Return Policies: Some Innovative, Some Naughty, Most Nice
A couple of retailers this year have added novel features to their return policies, while a few others have tweaked their return deadlines. Here are all the findings in Consumer World's 15th annual survey of retailers' return policies.

---
Is Eating Deli Meat Really Bad for You?
Eating processed meat can
increase one's risk of developing colorectal cancer
. A cancer researcher says even a single slice of ham on a sandwich adds to your risk. Yikes! But reading labels to figure out which deli products are better to eat can be confusing.
---
Please Help Support Consumer World
For 23 years, Consumer World has served readers with the latest consumer news, money-saving tips, and independent investigations. But we no longer receive financial support from a corporate sponsor. So reluctantly, MrConsumer turns to you and humbly
asks for your help
to keep this site and Mouse Print* available as free consumer resources.
---
ADV

---

---
Companies With the Best Customer Service
How helpful are the companies you deal with? A new survey of 20,000 consumers reveals the
top companies for customer service
in nearly 150 categories. From retailers to banks, from grocers to airlines, from insurers to dating sites, Newsweek has the top three rankings in each category.
---
Consumer World Original
Mouse Print* -- Here We Downsize Again

We end the year with a new round of products where the manufacturer has sneakily removed some of the product's contents hoping you would not notice. Our readers noticed, and so did we. That is our Mouse Print* story this week.


Consumer World
---
NOTE: We
only
feature free stories that are fully readable. If you are blocked, try a different browser and clear NYT and WashPost cookies from it. Other newspapers may block you based on your repeated use of their site, or convert previously free stories to pay stories without notice.
<! -------------------COLUMN 3 (RIGHT) ----------------------- -->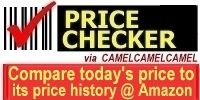 Enter an item, or preferably paste its Amazon URL (address)
Spot a bargain by comparing its price to its price history.
41943
---

Visit Our Sister Site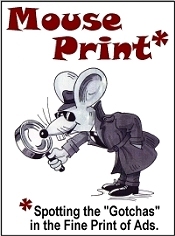 ---
Newsletter Sign Up
Every Monday morning, get a preview of the latest consumer stories and the Bargain of the Week in your email box...free! Sign up now.

---
ADV
---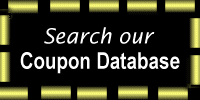 ---
Consumer News
---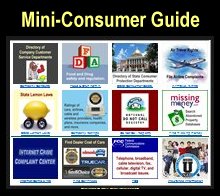 Not an ad!

---
<! -------------------COLUMN 4 ----------------------- -->
ADV
---
Bargain of the Week
Get Free Bonus Gift Cards When Buying Regular Gift Cards
To encourage people to buy restaurant and other types of gift cards, a number of sellers have been adding a bonus card, such as a $10 card free when you buy $50 in gift cards. Here are
some of the soon-to-expire offers
.
See also: Hot Deals

<! -------------------COLUMN 5 ----------------------- -->
Consumer Reports
Do You Really Need That Extended Warranty?
The advice on this subject hasn't changed in years: for most items, buying an
extended warranty
is a waste of money. However, for some items like cellphones that are prone to damage, it may be worth the money. And remember, most credit cards double the manufacturer's warranty up to an extra year automatically.
---
More from Consumer Reports
Most stories are free
<! -------------------COLUMN 6 ----------------------- -->
Consumer World Originals
Archive
---