Week of December 4, 2017 (see last week)
<! -------------------COLUMN 2 (MIDDLE) ----------------------- -->
Top Stories
Consumer World Original
Despite Promises, Few Prices Lowered at Whole Foods Three Months After Amazon's Acquisition

A price-check of Boston area Whole Foods stores by Consumer World exactly three months after the notoriously expensive chain was acquired by Amazon with promises to lower prices reveals that relatively few items have actually been reduced in price despite widespread publicity touting the cuts.

---
Consumer World Original
Mouse Print* -- Some Retailers Misled Shoppers on Black Friday Sale Savings

[Note: The next new Mouse Print* story will be on Dec. 11.] Everybody loves a bargain, and some retailers take advantage of that by exaggerating the actual savings that will accrue to you on certain purchases. We show you how some big name retailers tried to claim hundreds of extra dollars in phantom savings last week. That story is in Mouse Print* this week.

---
ADV

---
---
Don't Put These 16 Things in Your Dishwasher

Not everything should go in your dishwasher, as anyone who has ever ruefully retrieved a deformed plastic container will tell you. Here are
16 things
you're better off washing by hand.
---
21 Lies Restaurant Servers Tell
Food & Wine spoke with former and current servers around the country who admitted to telling the occasional, mostly harmless lie to customers to keep things moving and make their own lives a little bit easier. You can decide how serious these
21 restaurant fibs
really are.
Consumer World
---
NOTE: We
only
feature free stories that are fully readable. If you are blocked, try a different browser and clear NYT and WashPost cookies from it. Other newspapers may block you based on your repeated use of their site, or convert previously free stories to pay stories without notice.
<! -------------------COLUMN 3 (RIGHT) ----------------------- -->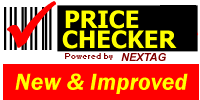 Enter an item, and compare prices at a number of online stores instantly
(Use brand, model#, name, etc.)
428999
---
ADV
---
Visit Our Sister Site: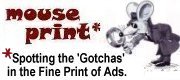 ---
Newsletter Sign Up
Every Monday morning, get a preview of the latest consumer stories and the Bargain of the Week in your email box...free! Sign up now.

---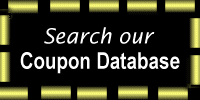 ---
Visit Our Sister Site:
---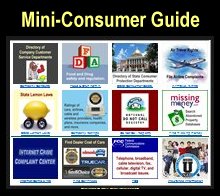 Not an ad!

---
<! -------------------COLUMN 4 ----------------------- -->
ADV
---
Bargain of the Week
$5 Off $15 FedEx Ground Shipment
Just in time for shipping holiday gifts... Get $5 off of a $15 or more Federal Express ground shipment when you present this
coupon
. Offer good through December 31.
Google Home Mini - $29 with $25 Back at Google Express (WM only)
This is the most fun you can have for $29. The
Google Home Mini
attaches wirelessly to your wifi and looks up stuff using only your voice. It has a speaker with sensational fidelity for such a small unit. Ask the weather, set reminders, search Google, play music (limited), order stuff, all with your voice. Google responds in a life-like computer voice almost instantly. And if you buy this at Walmart or Walmart.com you
get a $25 credit
at express.google.com/walmart .(Warning, the current selection of items there is narrow and overpriced.) Pick up in store to avoid $5.99 shipping charge.
Extra 30% off Clothing at Macy's
Here is a rare
30% off coupon
from Macy's good until December 11. Note exclusions and lower discounts for other categories.
See also: Hot Deals

<! -------------------COLUMN 5 ----------------------- -->
Consumer Reports
The Art of Getting an Online Discount
Last week, MrConsumer wanted to buy a leaf blower, but it was $28.49 at HomeDepot.com and only $22.99 at Walmart and Amazon. He called to request a price match (plus an extra 10% off), and without question the representative processed his order for local store delivery and only charged $20.69! Here are other tips from Consumer Reports on
how to get additional online discounts
.
---
Consumer News
<! -------------------COLUMN 6 ----------------------- -->
Consumer World Originals
Archive
---