Week of August 14, 2017 (see last week)
<! -------------------COLUMN 2 (MIDDLE) ----------------------- -->
Top Stories
Consumer World Original
OOPS: Comcast Featured Reality Star in "Real People" Commercial
You've probably seen Comcast's "real people, not actors" commercials where everyday folks make positive comments about Xfinity services.
Consumer World discovered
, however, that the man featured in a just-ended Comcast commercial previously starred in not one, but two reality TV shows.
---
US News Unveils Top 20 Hospitals
The list of the
20 top hospitals
was published last week by US News, but those toward the bottom of the list only garnered half as many points as those at the top. Here is a second set of listings based on a
particular specialty
.
---
ADV

---
---
Check if Your Email Address or Username Have Been Compromised
With so many online data breaches, most of us have probably been hit one or more times. It is scary to think that some crook may have your email or username and password.
This site
, recommended by the Wall Street Journal, lets you check if are a victim.
---
Consumer World Original
Mouse Print* -- Samsung's TV Warranty Suggests Limiting Your Viewing of Certain Stations/Programs or Else!

Say what? Tucked away in the warranty for Samsung HDTVs is a provision recommending that you limit viewing of certain types of programming, and if you don't, a part of the warranty will not apply. Say what? That story is in Mouse Print* this week.

Consumer World
---
NOTE: We
only
feature free stories that are fully readable. If you are blocked, try a different browser and clear NYT and WashPost cookies from it. Other newspapers may block you based on your repeated use of their site, or convert previously free stories to pay stories without notice.
<! -------------------COLUMN 3 (RIGHT) ----------------------- -->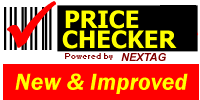 Enter an item, and compare prices at a number of online stores instantly
(Use brand, model#, name, etc.)
425947
---
ADV
---
Visit Our Sister Site: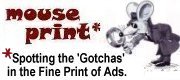 ---
Newsletter Sign Up
Every Monday morning, get a preview of the latest consumer stories and the Bargain of the Week in your email box...free! Sign up now.

---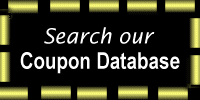 ---
Visit Our Sister Site:
---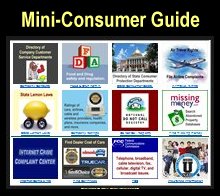 Not an ad!

---
<! -------------------COLUMN 4 ----------------------- -->
ADV
---
Bargain of the Week
T-Mobile - 2 Lines Unlimited Talk, Text and 4G-LTE Data - $60 Total
Catch: One person must be 55 years old or older, and you must sign up for autopay in order to
pay $60 for two voice lines
of service. T-Mobile includes all taxes and fees in their advertised price. Paying $30 a month (times 2) is a great deal for unlimited service from a name brand carrier. Make sure T-Mobile has a strong signal where you are. Beware, there may be a $25 charge for sim cards. Look elsewhere for less expensive TMO ones. ++
See also: Hot Deals

<! -------------------COLUMN 5 ----------------------- -->
Consumer Reports
Beware Auto Purchase Junk Fees
You think you struck a deal for a particular price for your new car, but when you review the paperwork, a whole bunch of junk fees have been added. Consumer Reports offers tips on
how to minimize these extra fees
.
---
Consumerist News
<! -------------------COLUMN 6 ----------------------- -->
Consumer World Originals
Archive
---